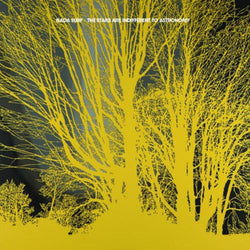 The Stars Are Indifferent to Astronomy CD
Tracklist
1. Clear Eye Clouded Minded
2. Waiting For Something
3. When I Was Young
4. Jules And Jim
5. The Moon Is Calling
6. Teenage Dreams
7. Looking Through
8. Let The fight Do The Fighting
9. No Snow On The Mountain
10. The Future

"Did you ever, as a kid, want to crawl into the speakers?" asks Nada Surf singer-guitarist Matthew Caws. "I did — here was OK, but there was much better." And that's pretty much what Nada Surf is all about — Caws, bassist Daniel Lorca, and drummer Ira Elliot are in love with the way rock music can transport you to a new and wonderful place in a beguiling rush of beats, chords, hooks and words. And they do it 10 times over on their brilliant sixth album, The Stars Are Indifferent to Astronomy.

The Stars leaps out of the gate in a blaze of guitars, swarming distortion and a sweet melody riding atop "Clear Eye Clouded Mind." Throughout, the crackerjack rhythm section of Lorca and Elliot puts the power in Nada Surf's pop, Lorca playing equal parts pedestal and filigree, Elliot ever the stylish dynamo. The tempos are high, but the songs bristle with hooks, breathtaking changes, and Nada Surf's trademark genius bridges. The educated ear will hear the influence of many bands from '60s British pop to post-punk and vintage indie, and yet there is an unmistakable Nada Surf sound: a certain rhythm section groove, introspective chord shapes and the unique emotional weight to Caws's voice, both boyish and very soulful, a combination of wisdom and vulnerability that can admit to being "moved to a tear by a subway breakdancer."