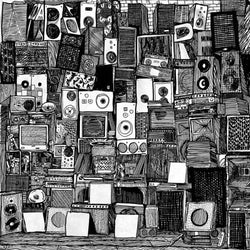 Tracklist:
1. Electrocution
2. Enjoy The Silence 
3. Love Goes On
4. Janine
5. You Were So Warm
6. Love And Anger
7. The Agony Of Laffitte
8. Bye Bye Beaute
9. Question
10. Bright Side
11. Evolution
12. I Remembered What I Was Going To Say


If i had a hi-fi is a covers album full of inspired, unexpected choices: from avant-pop Kate Bush to underground power-pop classicist Dwight Twilley. There are some intriguingly obscure numbers, like Spanish band Mercromina's "Evolution" and under-documented Bill Fox's "Electrocution". It also features tracks by The Go-Betweens, Arthur Russell, Spoon, and more.