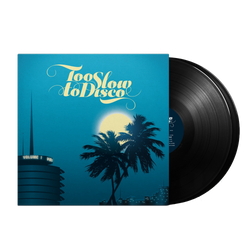 Too Slow To Disco Vol.1 LP
140g 2LP on black vinyl 

01. NED DOHENY - Get It Up For Love
02. MICKY DENNE AND KEN GOLD - Let's Put Our Love Back Together
03. RUPERT HOLMES - Deco Lady
04. WHITE HORSE - Over And Done With It
05. BROWNING BRYANT - Liverpool Fool
06. NICOLETTE LARSON - Lotta Love
07. ALESSI BROTHERS - Do You Feel It?
08. PHOTOGLO - Steal Away
09. BRIAN ELLIOT - Room To Grow
10. CHICAGO - Saturday In The Park
11. DON BROWN - Shut The Door
12. MATTHEW LARKIN CASSEL - Rendezvous
13. PAGES - I Saw You Again
14. DOOBIE BROTHERS - Losin' End
15. FLEETWOOD MAC - Sugar Daddy
16. ROBBIE DUPREE - Steal Away
17. DAVID BATTEAU - Spaceship Earth
18. TONY JOE WHITE - I've Got A Thing About You Baby
19. JAN HAMMER GROUP - Don't You Know

"The Eagles were the dream of rock and roll incarnate. Hotel California became a state of mind – the land of blue jeans and cocaine, mirror shades reflecting palmtrees, blond hair flowing from convertible cars on freeways that led to oceans. You love it and you hate it!" (Don Henley in Barney Hoskyns' book "Hotel California")

Ah, the mid-70s 'Me Generation', not so happily remembered. And in the taste-conscious music world for years now people have laughed at the L.A.-sound with its super-smooth, over-lavish, luxury-laden excesses. Chord progressions as thrusting as that bridge across the bay. Love the white blazer by the way. Neiman-Marcus, right?
But "Too slow to disco - vol. 1" isn't interested in your aging hang-ups. As you know, once musical genres get old the best parts still shine through, and this collection is a delectable document of this forgotten phase of the mid-70s West Coast music world. We've unearthed some of the lesser-known but still beautiful mood music of this period, by people who were often still starting out, or would write their biggest hits years later, but who surfed the West Coast wave penning some total gems. So, yes, welcome to phase 1 of our PRM (Personal Rediscovery Movement, cult fans).