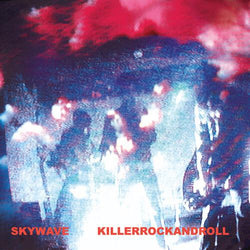 Skywave - Killer Rock and Roll
Before there was A Place To Bury Strangers, Oliver Ackermann (of the reknowned Death By Audio pedals and venue) started his musical venture along with friends Paul Baker and John Fedowitz in the Virginia based cult shoegaze band, Skywave. 

Killerrockandroll is a compilation of songs handpicked by the band from various handmade CDRs, cassette tapes, and 7″ singles recorded between 1995 – 2002. The songs were remastered and made available as a limited edition red and black swirl vinyl gatefold sleeve, exclusively on Record Store Day 2016. The inner sleeves contained a collage of band and show photos as well as a written story by Joe Kelly, a member of the Death By Audio crew. 
1. Don't Say Slow
2. Without You
3. Tsunami
4. Over And Over
5. Here She Comes
6. Nothing
7. Sanddune
8. Don't Say Goodbye
9. Angela's An Angel
10. Got That Feeling
11. Summertime
12. It's In Your Eyes
13. All I Had
14. Kiss