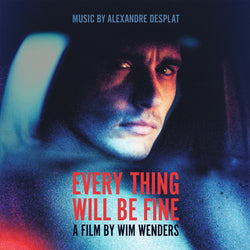 Various Artists
Everything Will Be Fine CD
Every Thing Will Be Fine is the latest feature film by WIM WENDERS, shot in 3D. 
Based on an original script by Norwegian Bjørn Olaf Johannessen, Wim Wenders tells the story of the author Tomas (James Franco) in EVERY THING WILL BE FINE. One day a car accident transforms his life. Even though he is not directly to blame for this tragedy, it still causes his relationship with his girlfriend to break apart. Tomas falls into a deep hole. He seeks retreat in his writing and tries to start his own family with a new love. The film looks at Tomas' attempt to give his life meaning again and recounts his search for forgiveness. It is not time alone that heals wounds but the courage to face up to things and to forgive. Especially oneself. 
The original music score to Every Thing Will Be Fine was written, composed and directed by worldwide renowned composer ALEXANDRE DESPLAT. 
1 Everything Will Be Fine 
2 The House In the Snow 
3 The Accident 
4 Autumn 
5 Looking For The Light 
6 Spring 
7 Thomas Writes 
8 On The Ferry 
9 A Strange Phone Call 
10 The Letters 
11 Suicide Attempt 
12 Book Signing in the Park 
13 The Fairground Disaster 
14 Winter 
15 Tomas's Success 
16 Kate Leaves the House 
17 Summer 
18 Kate's House At Night 
19 Christopher's Sorrow 
20 Reconciliation