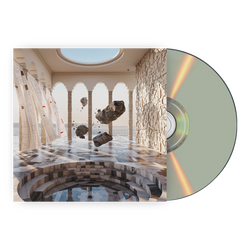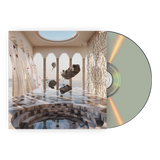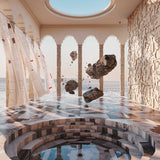 Altid Sammen on CD. The track '
Vi er uendelig' will be available to download at the time of purchase.
1. Vi er uendelig
2. Supertanker
3. Uden ansigt
4. I dine øjne
5. Hænder der åbner sig
6. Verden forsvinder
7. Under broen der ligger du
8. Havet løfter sig
9. Hold mine hænder
Marking the group's return seven years after their last studio release – a period of transition, of high adventures and creative questing – Efterklang's fifth album Altid Sammen is their finest yet. Bold and ambitious, yet engaging on a primal and emotional level, the album is steeped in the experimentation that has been their trademark since their debut album, 2004's Tripper, but is more elemental than they've yet dared to be. The music of Altid Sammen (the title means "Always Together") is deep and sonorous. Their trademark tapestry of acoustic and electronic elements, woven together so expertly one hardly notices how each strengthens the other, has never sounded more accomplished. Sounds from the baroque and digital eras strike perfect harmonies together, bound together by Casper Clausen's warm, weathered and wise vocals. The album will be released on the band's own label Rumraket in the Nordic and on 4AD in rest of the world.
Approached by B.O.X – a Belgian ensemble founded by lute player Pieter Theuns, performing new music with baroque orchestration – Casper Clausen (vocal), Mads Brauer (synth, electronics) and Rasmus Stolberg (bass) composed material for a joint performance at Theuns' own mixMass festival in Antwerp in January 2018. But the music they began writing for this performance soon took on a life of its own. The performance left Efterklang fired-up to commit this work to tape. "We walked offstage feeling super-elevated," says Stolberg. "Let's get into a studio and document this." Their initial plan was to record the album solely in collaboration with the B.O.X ensemble. But later that summer the trio appeared at Berlin's PEOPLE festival, a 7-day experience where musicians from around the world (including Lambchop's Kurt Wagner, Beirut's Zach Condon, Justin Vernon, Feist and the Dessner brothers, along with 150 more artists) collaborate and perform in various new ensembles. As well as performing with various friends new and old, the trio also played together as Efterklang, revisiting the new songs, but this time with other musicians onstage. "And we realised then, these songs deserved our full attention – the scope of possibilities was inspiring," says Stolberg. "It was time to make a new Efterklang album." Read the full bio here.