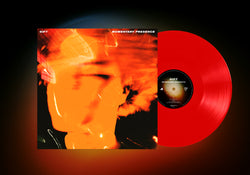 GIFT
Momentary Presence Opaque Red LP
Momentary Presence by GIFT on opaque red vinyl.
When You Feel It Come Around
Gumball Garden
Share The Present
Lost for You
Pez
Stuck in a Dream
Feather
Dune
Pinkhouse Secret Rave
Here and Now (Time Floats By)
Surprise—psychedelic Brooklyn, NY quintet GIFT unwrap what Rolling Stone calls "a portal to another dimension" on their debut album, Momentary Presence, out October 14, 2022.
On GIFT'S kaleidoscopic first long-player, bandleader TJ Freda & co. uncap the lens to project their vibrant spectrum of psych, krautrock, dream pop, post-punk, noise rock and electronica upon the vacant surfaces of the mind—inviting listeners to, in the words of countercultural guru Ram Dass, "be here now."
"[It's about] being with yourself, not by yourself," says Freda. "You are never alone. You are always with yourself." 
Momentary Presence exists, and that's enough. There is no beginning and no end. From the percolating, in medias res intro of album opener "When You Feel It Come Around" through the swirling, gliding and expansive conclusion of "Here And Now (Time Floats By)," GIFT retains the element of cosmic surprise. 
Lead single "Gumball Garden" opens the gate to a technicolor shoegazing fantasy island dipped in syrupy synths and topped with powdered fuzz riffs to deliver a delectable confection of neo-psychedelic euphoria fueled by dank strains of effervescent psych-prog. 
On "Share the Present," crisp drum machines and airy '80s synthesizers make space for Freda's refrain, delivered in a pillow-soft voice that "feels like a caress." "Lost For You" is a rolling, bittersweet psych-folk breakup song driven by jangly acoustic strumming and Freda's vivid palette of synthesizer and organ.
And on the droning, slow burning "Feather," Freda sings of "psychic destabilization and the quest for balance" from a patchwork nest of indie electronica held together by Fripp- and Beatlesque lead guitar, plus Freda's hallucinatory bedroom production work.
Treat yourself to Momentary Presence, the debut album from GIFT at finer record stores on January 27, 2023 and streaming apps on October 14, 2022—only on Dedstrange.
RIYL: Spiritualized, Tame Impala, Wand, Brian Jonestown Massacre