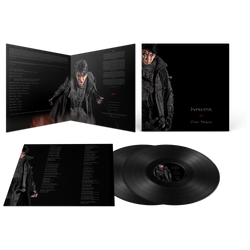 'Intruder' is Numan's 18th solo studio album and follows 2017's 'Savage: Songs From A Broken World', which became his highest charting set in almost forty years when it debuted at #2 on the Official Albums Chart. That commercial success was complemented with wide-reaching critical acclaim from Mojo, The Quietus, PopMatters and more.

Whereas 'Savage' depicted earth as a barren wasteland in which humanity and culture had been largely crushed by the effects of global warming, 'Intruder' presents a fresh but complementary narrative. It's a philosophical examination of a potential future apocalypse: the planet can only survive by purging its inhabitants.

'Intruder' was recorded between sessions at Numan's home studio in Los Angeles and at producer Ade Fenton's studio in Bath. It represents their fifth studio album together after 'Jagged' (2006), 'Dead Sun Rising' (2011), 'Splinter (Songs From A Broken Mind)' (2013) and 'Savage (Songs From A Broken World)' (2017).

Since coming to prominence with era-defining hits such as 'Cars' and 'Are 'Friends' Electric?' (with Tubeway Army), Gary Numan has remained consistently creative and released a huge catalogue of work. His impact on electronic and alternative music has been hailed by pioneers such as Prince, David Bowie and Nine Inch Nails and remains impactful today, with Kanye West and Lady Gaga both crediting him as an influence. He was rewarded with the prestigious Inspiration Award at the Ivor Novellos in 2017 and shared his remarkable story with 2020's candid autobiography '(R)evolution'.

Pre-ordering the forthcoming studio album assigns you  to a private area of the store where you receive Exclusive album text, audio and video updates from Gary as he sets off on the journey of recording the album.
Betrayed
The Gift
I Am Screaming
Intruder
Is This World Not Enough
A Black Sun
The Chosen
And It Breaks Me Again
Saints And Liars
Now And Forever
The End of Dragons
When You Fall
The End of Dragons (Alt)