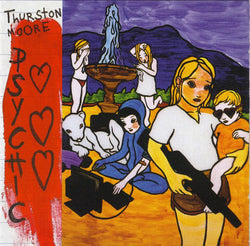 Thurston Moore
Psychic Hearts 2LP
Tracklist:
1. Queen Bee And Her Pals
2. Ono Soul
3. Psychic Hearts
4. Pretty Bad
5. Patti Smith Math Scratch
6. Blues From Beyond The Grave
7. See-Through Play/Mate
8. Hang Out
9. Feathers
10. Tranquilizer
11. Staring Statues
12. Cindy (Rotten Tanx)
13. Cherry's Blues
14. Female Cop
15. Elegy For All The Dead Rock Stars
Side 4 Bonus Tracks (LP Only)
1. Teenage Buddhist Daydream
2. Just Tell Her That I Really Like Her
3. The Church Should Be For The Outcast, Not A Church That Casts People Out
4. Thoodblirsty Thesbians 
5. Superchrist
Sonic Youth guitarist Thurston Moore's 1995 solo album, Psychic Hearts, available as a deluxe double-LP vinyl edition on SY's very own Goofin' label. In addition to Moore on guitar, bass, and vocals, the album features Steve Shelley on drums and Tim Foljahn (of Two Dollar Guitar) on guitar. 

The genesis of the album was Male Slut, a rock trio formed by Moore, with Foljahn and Shelley. According to Thurston "Male Slut" was how Julie Cafritz of Pussy Galore referred to her bandmate Jon Spencer and that he thought that would be a cool band name. The trio released a seven inch single with this name but Thurston preferred to released "Psychic Hearts" under his own name despite the album containing the same musicians as Male Slut.

For this release, the fourth album-side contains bonus tracks of rare and hard to find Thurston cuts from b-sides and compilation tracks as well as both sides of the Male Slut 7 inch.