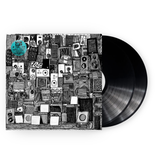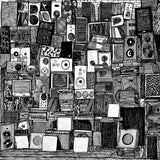 Double black vinyl with download card included.
If I Had A Hi-Fi is a covers album full of inspired, unexpected choices: from avant-pop Kate Bush to underground power-pop classicist Dwight Twilley. There are some intriguingly obscure numbers, like Spanish band Mercromina's "Evolution" and under-documented Bill Fox's "Electrocution". It also features tracks by The Go-Betweens, Arthur Russell, Spoon, and more. 
Tracklist:
1. Electrocution
2. Enjoy The Silence 
3. Love Goes On
4. Janine
5. You Were So Warm
6. Love And Anger
7. The Agony Of Laffitte
8. Bye Bye Beaute
9. Question
10. Bright Side
11. Evolution
12. I Remembered What I Was Going To Say
After we finished touring for lucky we wanted to stay busy without having to wait for me to cook up another batch of songs for a new album. The solution was an album of covers, which we hoped we could "get away with" after after five albums of original songs. The only thing we knew we didn't want to do was try to make an album that perfectly represented our influences, figuring that would feel like homework real fast. We just recorded whatever we excited about playing, whether it was old or new, an influence or not. That's why it ranges from "Love and Anger," a song i'd be listening to since 1989, to "Electrocution" by a new obssession of Ira's, Bill Fox. I'd only heard of Arthur Russell for the first time two months before. We did most of this album at louie lino's studio in austin, resonate, which he built from the ground up. The weather was hot, the grill was on, the beer was cold, and an excellent time was had by all. Back in New York, I ran into Doug Gillard at a Bob Mould show, and he offered to play some guitar on whatever we were working on. I'd been a big fan of Doug's for years, so it was a thrill to work with him on a few songs, which we did with tom at the nuthouse again. The parts he played on electrocution, love goes on and you were so warm put such a strong stamp on the recordings that we didn't want to play the songs live without him, so we asked him to tour the album with us. He's been playing with us since. we're very lucky.