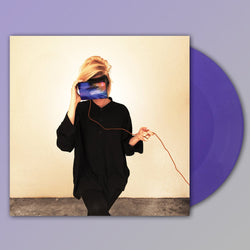 Limited 180g Lilac Vinyl Release 

Tracklist
01. Satellites
02. So Blonde
03. 3Jane
04. Cthulu
05. Smoulder
06. Neuromancer
07. When She Comes
08. 100 Years
09. Solace
10. Dead Celebrity
Erika M. Anderson first graced the limelight under the guise of EMA in May 2011, when the brilliantly scuffed debut was released to a multitude of acclaim. 'Past Life Martyred Saints' offered a deeper glimpse into the world of EMA.
An absorbing and ambitious masterpiece that revealed a unique and feed-backed noisy guitar style, a skill for visceral songwriting and a DIY recording ethos, it showcased a distinctive sonic signature that sounded like nothing else around. If 'Past Life Martyred Saints' was an inward exploration of human relationships and their toll, The Future's Void catapults them out into space, both thematically and musically. The album meditates on universal themes of how we interact with the wider world and how that interaction is increasingly modified by technology.