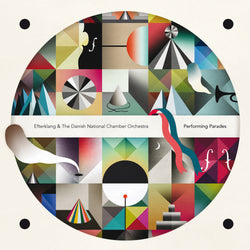 On Performing Parades, Efterklang perform their album Parades in full, accompanied by The Danish National Chamber Orchestra in their hometown of Copenhagen. 

Shortly after the release of Parades, Karl Bjerre Skibsted from DR (Danish Broadcasting Corporation) approached Efterklang with a proposal to work with The Danish National Chamber Orchestra. Efterklang leapt at the opportunity. The album unites Efterklang and the orchestra as a single unit. Composer and arranger Karsten Fundal wrote the orchestral arrangements. It was recorded live as sound and film on September 26th 2008 at DR´s extraordinary Koncerthuset in Copenhagen to a full house. The concert featured specially constructed costumes and set design by Hvass&Hannibal. The DVD also features the documentary Recreating Parades by Ralf Christensen.

Album artwork by Hvass&Hannibal.
Polygyne (live)

Mirador (live)

Him Poe Poe (live)

Horseback Tenors (live)

Mimeo (live)

Frida Found A Friend (live)

 Maison De Réflexion (live)

Blowing Lungs Like Bubble (live)

Caravan (live)

Illuminant (live)

Cutting Ice To Snow (live)