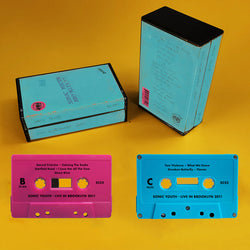 (PRE-ORDER) Live in Brooklyn 2011 2xCassette
(PRE-ORDER) Please note that this item is a pre-order and as such this and any items ordered together with it will not ship out until on or around the release day August 18th 2023.
2 x Cassette Tape.
PLEASE NOTE: The artwork is a replication/ homage of 70's bootleg albums. Jacket-wear/ aging/ grime is part of the artwork.
1. Brave Men Run (In My Family)
2. Death Valley '69 
3. Kotton Krown 

4. Kill Yr Idols
5. Eric's Trip
6. Sacred Trickster 
7. Calming The Snake 
8. Starfield Road
9. I Love Her All The Time 
10.  Ghost Bitch 
11. Tom Violence 
12. What We Know 
13. Drunken Butterfly 
14. Flower 
15. Sugar Kane
16. Psychic Hearts
17. Inhuman