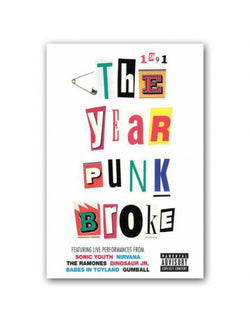 The Year That Punk Broke DVD
For the first time, 1991: The Year Punk Broke is finally making its debut on DVD. All footage has been fully restored with audio re-synced and remastered in uncompressed PCM stereo under the supervision of Sonic Youth.
Filmed a month prior to the release of their breakthrough album Nevermind, 1991: The Year Punk Broke also includes footage of Nirvana unknowingly on the cusp of leading a massive cultural movement as they performed "Smells Like Teen Spirit," "Polly" and "Negative Creep." Also featured is Dinosaur Jr.'s live versions of "Freak Scene" and "The Wagon" and Babes In Toyland's brutal performance of "Dustcake Boy" . 1991: The Year Punk Broke is also packed with 65 minutes of bonus material, including the previously unreleased featurette "(This Is Known As) The Blues Scale" featuring over 40 minutes of additional live footage of Sonic Youth performing "White Kross," "Eric's Trip," "Chapel Hill" and "Inhuman" plus a rare Nirvana performance of "In Bloom." Other extras include live rough cuts of "Mote" and "Flower," the original movie trailer, and "Broken Punk" — a 2003 panel discussion Sonic Youth's Thurston Moore, Steve Shelley and Lee Ranaldo, Dinosaur Jr.'s J. Mascis and Filmmaker Dave Markey.