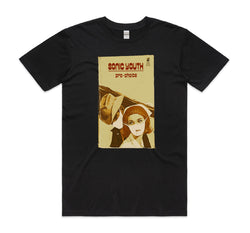 In response to alarming restrictive legislative measures against the women of Texas (and increasingly elsewhere) Sonic Youth are releasing 2 Vintage Texas Concerts along with 3 limited edition Texas-Themed T-Shirts to Raise Funds for Women's Choice for Fund Texas Choice in the US and the Abortion Support Network in the UK on Friday, November 5th.
On that day, the band makes two vintage live sets available in full, from the Austin Music Hall, Austin, Texas from 1995 (on the post-Lollapallooza 'Washing Machine' tour), as well as a gig in Dallas, Texas  at the Gypsy Tea Room ('Rather Ripped' tour) in 2006. These classic, previously unreleased shows go up for stream and download on November 5th, with 100% of their proceeds to support the two causes.
Also, three new Sonic T-Shirt designs will be made available: two from Texan photographer/friend of the band/author of the recent 'Texas Is the Reason' book Pat Blashill , and a third tee featuring a variation of Richard Prince's "Dude Ranch Nurse" artwork. The first Blashill tee features a photo from their Austin/Continental Club '85 gig, the second features pro-femme lyrics from their song "Flower" coupled with various photos of assorted women from the 80's Texan punk scene. Proceeds of these will benefit the causes as well.