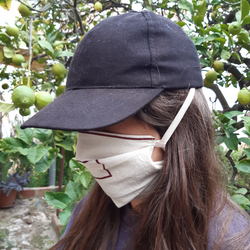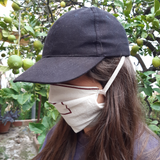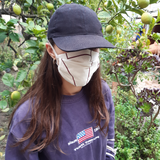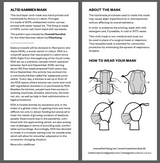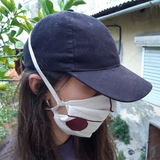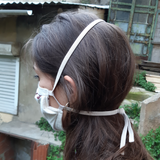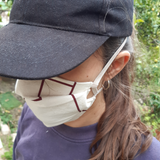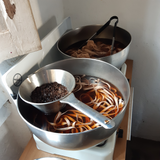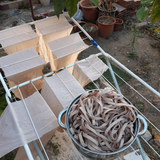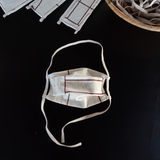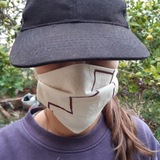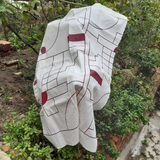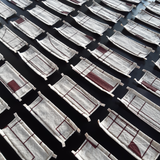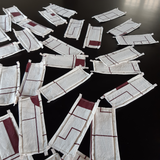 Altid Sammen Face Mask - Charity for Recreativo dos Anjos (RDA)
This dual layer cloth mask was hand printed and handmade by Siroco in Lisbon, Portugal. It's made of 100% unbleached cotton canvas printed with water-based ink. The lining is made of 100% cotton veil, hand-dyed with tea leaves.

The pattern was created by Hvass&Hannibal for the Altid Sammen album by Efterklang.

All of Efterklang's sales proceeds will be donated to Recreativo dos Anjos (RDA), a social center in Lisbon. RDA is a nonprofit space that has existed in Lisbon since 2010. Right from the beginning of the Covid crisis, RDA set up a solidarity canteen which operated between April and September 2020, serving about 150 fresh meals free every day. Since September, this activity has evolved into a community kitchen called the "esplanada comunitária." Every day, a kitchen is set up in front of the RDA space, where anyone can come and cook with ingredients donated to or purchased by RDA. Besides the kitchen, people have free access to washing machines, showers, electricity, the Internet, etc., as well as help in their administrative or legal procedures. RDA is funded entirely by donations and, in the midst of a global crisis, it's getting more and more difficult not only to obtain funding but above all to meet the needs of growing numbers of destitute people. Restrictions due to the pandemic, combined with the approaching winter, are also posing new challenges in terms of providing safe, comfortable surroundings. Accordingly, RDA has decided to invest in a modular awning over its outside area, which will allow for smoother adaptation to the constantly changing situation.

More info : https://rda69.wordpress.com    


PRODUCT DESCRIPTION AND ADVICE:
This face mask was made from fabric left over from the Altid Sammen kimonos.
Each mask has its own unique pattern.
Dual layer cloth mask:
Front: 100% unbleached cotton canvas hand-printed with water-based ink
Reverse: 100% cotton veil hand-dyed with black tea
Adjustable elastic headband for greater comfort
Size (folded):  width 18 cm / height 7 cm

Care instructions:
To keep the print design from fading, wash with mild detergent and if possible in cold or 30°C water.

Warning:
This cloth mask is non-medical and must not be used in place of a surgical mask or respirator. It is reusable and intended for community protection by minimizing the spread of respiratory droplets.