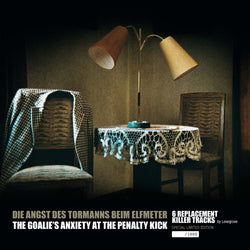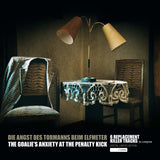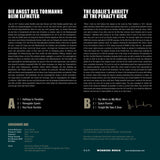 Various Artists
Die Angst des Tormanns beim Elfmeter 10"
"Die Angst der Tormanns beim Elfmeter" ("The Goalie's Anxiety At The Penalty Kick") was shot in 1971/72 and won the International Film Critics' Award at the International Film Festival in Venice. Due to legal issues with many songs on the score, the movie could not be shown publicly after that. 
Nearly 40 years later, in 2014, the movie was digitally restored, the original 35mm negatives were scanned, retouched and color corrected and the rights issue was addressed by having the soundtrack re-recorded. For this purpose Michael Beckmann was asked to put a band together with whom he wrote new songs and lyrics. In order to emulate the sound of the Sixties as faithfully as possible, the band worked with instruments and analog recording techniques from the 50's and 60's. 
The result is this not only the necessary condition to show this movie to the public again, but also this strictly limited 10" EP (1000 limited and hand numbered units worldwide). 
A1. Halfway to Paradise 
A2. Renegade Queen 
A3. Red Rock Rumble 
B1. You Were On My Mind 
B2. Space Runner 
B3. Tonight We Take It Slow 
Lovegrove are: Andrew McGunines (Drums, Vocals), Reverend C. Dabler (Organ, Piano, Vocals), Beckmann (Bass), Rodrigo Gonzales (Guitar, Vocals), Ben Abarbanel- Wolff (Sax), Rolf Völter (Sax), Gemma Ray (Vocals on Halfway to Paradise), Grant Stevens (Vocals on You Were On My Mind & Tonight We Take It Slow), Paal Flaata (Vocals on Renegade Queen)