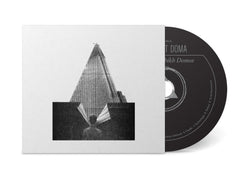 When С крыш наших домов (S Krysh Nashikh Domov), the debut album by Molchat Doma, was released in 2017, it announced a bold new voice in underground music. The album found a passionate audience on Bandcamp and other streaming services and was released on CD and cassette. Sacred Bones Records is proud to present the album on vinyl for the first time.
Molchat Doma (translated as "Houses Are Silent"), founded in 2017 in Minsk, Belarus, stands at the intersection of post-punk, new-wave and synth-pop. Dark yet danceable, and with a heavy dose of goth ethos, their music is reminiscent of the masters that predate them, but make no mistake: Molchat Doma creates a sound and meaning that is immediately recognizable as all their own.  
The band is comprised of Egor Shkutko, who sings the Russian lyrics in his deep monotone, Roman Komogortsev on guitar, synths, and drum machine, and Pavel Kozlov on bass and synths. 
Release Date: 3/27/2020